The content on this page contains affiliate and/or advertiser links. Please review my full disclosure policy.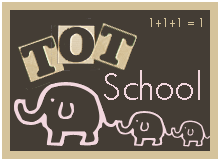 ~JI and TJ are 26 months~
The big boys were working on the letter D this week, so the little boys got to join in on some of the fun. Here they are driving their cars on the big dominoes.

And, they got to build a bit with the regular dominoes.
Once the got the hang of the lacing tool I made for them, they were busy lacing all the foam pieces together. (I made them by punching holes in some foam shapes that I got from the Dollar Store.)
I finally finished off our second parmesan container. For some reason I felt like they would each need their own container to work with and boy was I right. It was so funny to see how both of them responded. (I cut up various lengths of straws for them to put into the holes of the container.) TJ loved it and got to work putting the straws into his jar. JJ, on the other hand, put one in and became very distraught as he tried to get it back out. He kept saying that his straw was stuck! Once I showed him how to open the other side of the container so that I could shake out the straw, he was good!

They also enjoyed stringing their wooden beads. I was a bit surprised at how focused they were on this!!

I had an empty ribbon holder thing that was left over from doing this to their beds. I gave it to the little boys and they had a blast rolling it back and forth to each other.

Finally, rather than helping to shell the beans from our garden, JJ decided that he wanted to drum with them. Here he is beating my poor beans to death!

Be sure to check out Tot School for more great toddler ideas as well as my other website for free online preK resources.