The content on this page contains affiliate and/or advertiser links. Please review my full disclosure policy.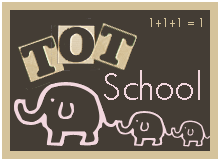 ~JI and TJ are 22 months~
I am not sure if I have mentioned it, but for now, Tot School (for us) is used as a means of keeping the babies occupied while I work with the big three. So, that is why so many of the activities are hands-on manipulative type things. I will pull out just about anything to keep them occupied while we "do school." With that said, here are some of the things that the babies did this past week.
They used a spoon to scoop puff balls into a cup. Yes, I knew it was time to move on to another activity when all of the puff balls were on the floor and the bowl and the cup were broken! 🙂
While the older kids used their cuisenaire rods,
I gave the babies a few to play with.
Finally the really enjoyed stacking their cones…but…
they enjoyed balancing them on their heads even more!
Be sure to check out
Tot School
for more great toddler ideas as well as
my other website
for free online preK resources.